Cheesy Potato Casserole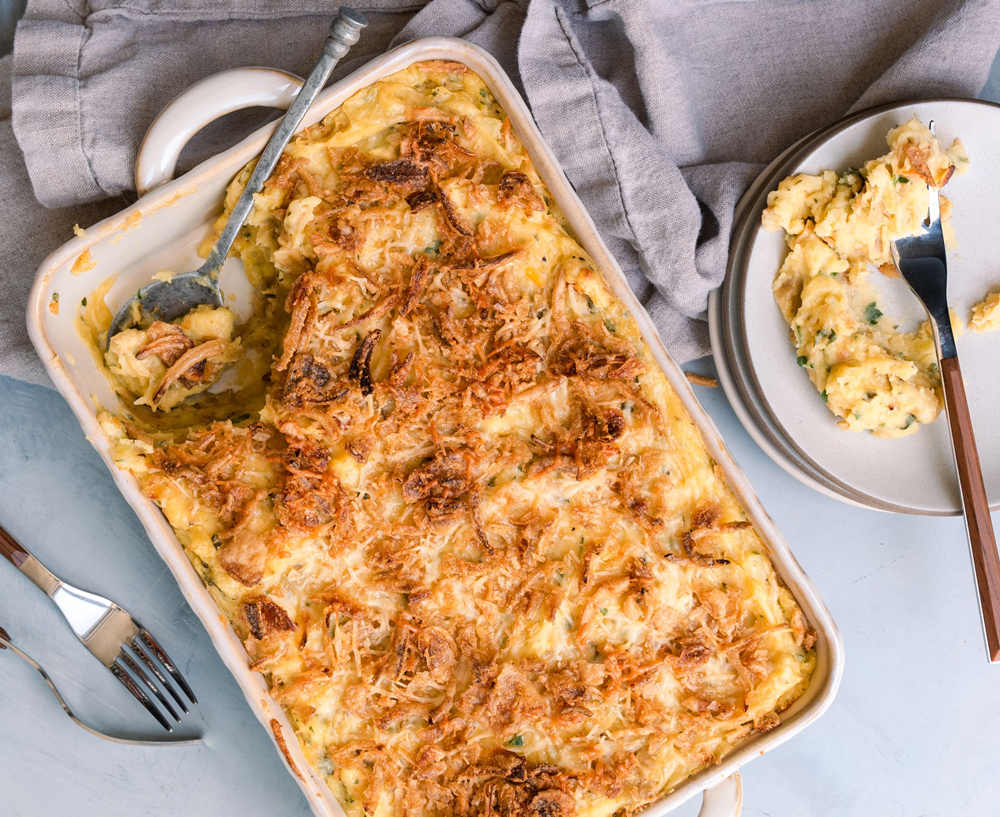 Ingredients
3lbs baby Dutch yellow potatoes
½ cup butter
½ cup heavy cream
1 5oz container plain Greek yogurt
1 teaspoon garlic powder
1 teaspoon onion powder
½ teaspoon chipotle chili powder
Salt and pepper
3 cups shredded cheddar cheese or Mexican cheese blend
1 Tablespoon fresh thyme, finely chopped
1 Tablespoon fresh sage, finely chopped
1/3 cup fresh parsley, finely chopped
¾ cup crispy onions
½ cup shredded parmesan cheese
Instructions
Slice potatoes in half or quarters so all pieces are roughly the same size. Place in a large pot and cover with water. Bring to a boil, and cook until fork tender, about 20-25 minutes.
Preheat oven to 375°F
Drain potatoes and return to pot. Mash with butter, cream and Greek yogurt until smooth (or desired texture if you prefer chunkier). Stir in garlic powder, onion powder, chipotle chili powder and salt and pepper to taste.
Fold in shredded cheese until fully incorporated. Fold in thyme, sage and parsley.
Spread mixture evenly into a 2-quart casserole dish.
In a small bowl combine crispy onions and parmesan cheese. Spread onion mixture evenly over the top of the casserole dish.
Bake for 25 minutes until topping is golden brown.
Prep Time 30 minutes
Cook Time 25 minutes
Total Time 55 minutes
Serves 12