LEMON PEPPER & GARLIC STEAK KABOBS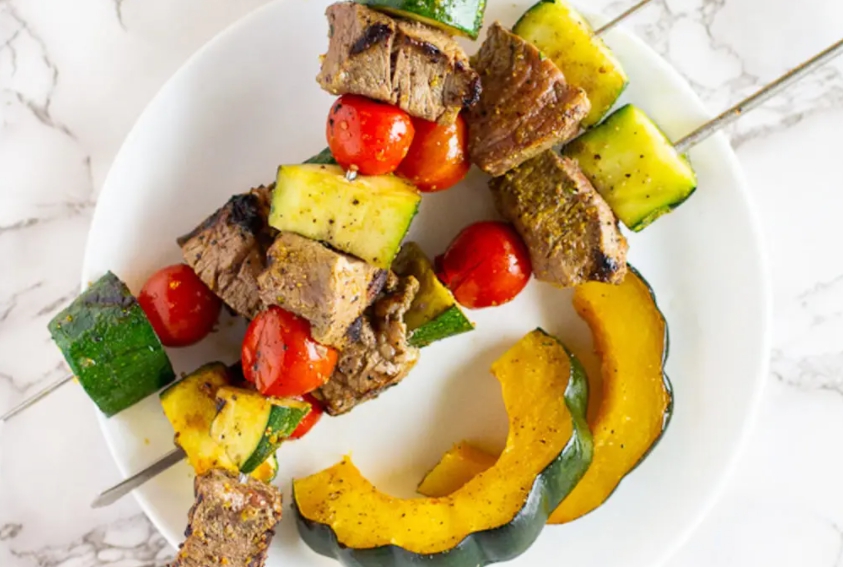 Grilled kabobs are one of the easiest foods to prepare. Simple maybe, but full of delicious flavors! Load your skewers with your favorite veggies, meats, and seasonings and you have a treat for the whole family.
"This is quite a healthy summer grilling recipe. It's full of protein and veggies and makes a great low carb grilling recipe if that's what you're going for.
Ingredients:
1 lb sirloin steak
2 medium zucchini
1 pint cherry tomatoes
4 cloves garlic
2 tsp lemon pepper seasoning
1/2 tsp salt
1 T olive oil
INSTRUCTIONS
Cut steak into 1 ½ inch cubes + zucchini in large slices + mince 4 gloves garlic.
Add steak, zucchini, tomatoes, and garlic to a large bowl.
Sprinkle in lemon pepper, salt, and drizzle with olive oil.
Toss until the steak and veggies are well coated.
Heat grill or grill pan to med-high.
Skewer steak, zucchini and cherry tomatoes on soaked wooden skewers or metal skewers.
Grill for 2-4mins on each side until steak is cooked to desired level.
Recipe By: US Wellness Meats