Spicy Deviled Eggs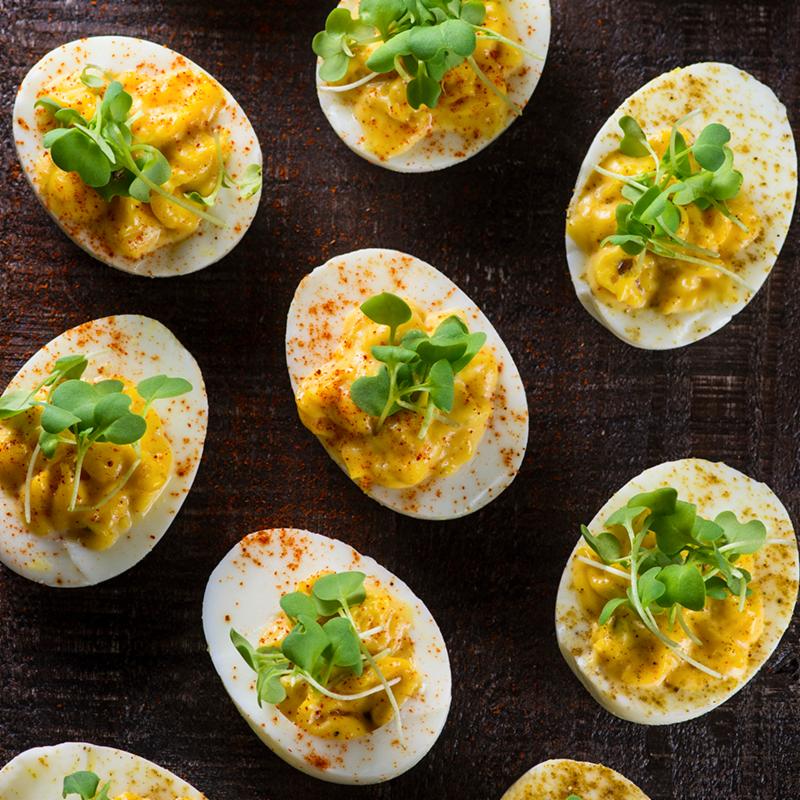 Ingredients
12 Fresh Eggs
½ cup Real Mayonnaise
1 teaspoon Dry Mustard
2 tablespoons Sweet Pickle Relish
Salt and Freshly Ground Pepper, to taste
2 teaspoons New Mexico Hatch Pepper Powder (chiles dried and ground)
Directions
Place the eggs in a large pot and add enough cold water to cover the eggs by 1-inch. Over high flame, bring the eggs and water to a boil. Remove the pot from the heat, cover and let sit for exactly 17 minutes.
Next, transfer the eggs to a bowl of ice water. Bring the water back to a boil. Place 6 eggs back into the boiling water and cook for 10 seconds, then return them to the ice water.
Repeat for the other 6 eggs.
When cool carefully peel the eggs and rinse them.
Split each egg in half, lengthwise, and remove the yolk. Place the yolks in a mixing bowl. Using a fork, mash the yolks. Add the mayonnaise and the rest of the ingredients, except for the Hatch Pepper powder to the egg yolks. Mix well until creamy.
Pipe the yolk mixture into the egg white halves, sprinkle with the Hatch Pepper powder and place in the refrigerator until time of service.
Recipe Note
The egg boiling technique was adapted from Julia Child. Image garnished with fresh trimmed daikon 'kaiware' sprouts.
Recipe from "Melissa's Hatch Chile Cookbook" with the green cover.
Cook Time: 20 Min
Servings: 24 pieces